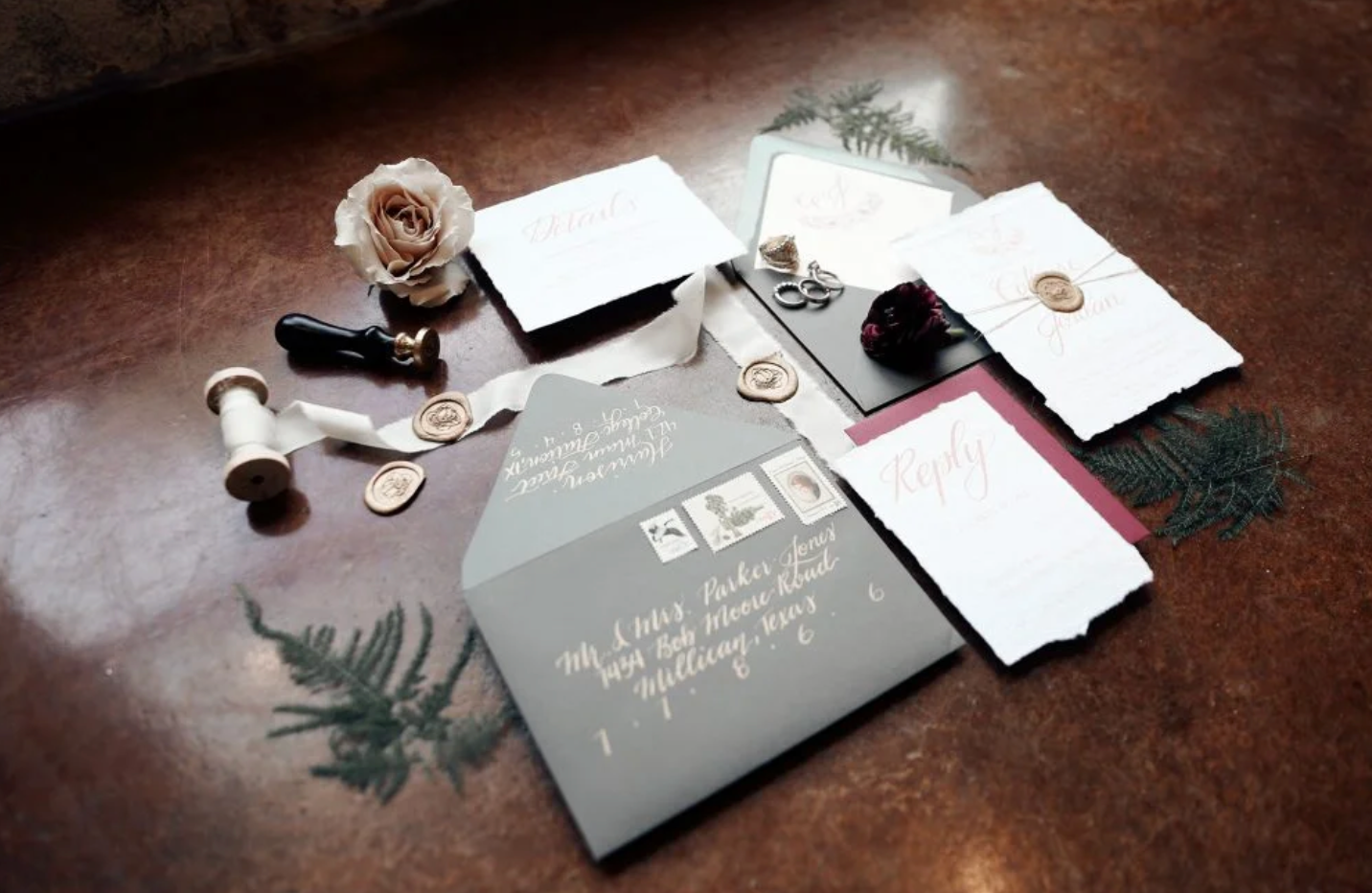 Custom Wedding Stationery
First impressions are important.
I can't say it enough, a wedding invitation suite is so much more than a piece of paper.
They set the tone for your wedding day and provide the first "wow!" factor for your guests (the next "wow!"moment comes when you walk down the aisle!).
Wedding planning can be stressful (sounds like the understatement of the century, right?!) but Birdie Mae Brides don't have to stress over wedding stationery! I'm here to walk you through every step of the process – from design and printing choices to etiquette and timelines – and offer expertise that come with years of experience.
Collapsible content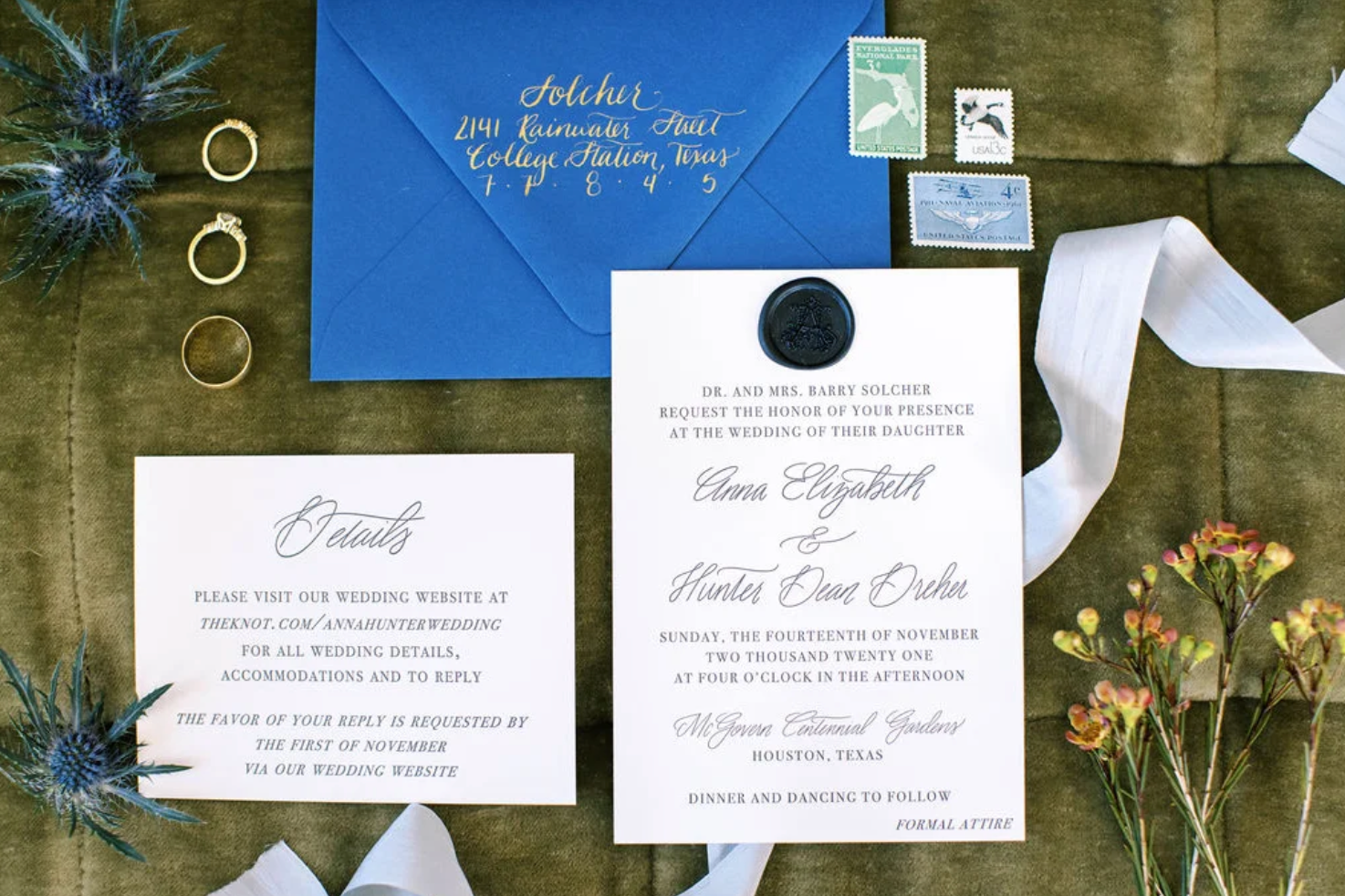 Book Your Consultation

Email us at hello@birdiemaedesigns.com and we'll schedule a complimentary consultation. We'll chat about your priorities, inspiration and budget so I can create a quote for a custom wedding invitation suite designed just for you!
The Design Process

Next up is the fun part – design!​

Everything starts from a blank slate (no templates here!) to make sure you have a completely custom, one-of-a-kind piece. We work through three rounds of edits to make sure we get every detail just right. 
The End Result

Once the design is finalized and approved, I place orders for supplies, send the files to my printer and get started on the assembly process. 

My design fee is a flat fee, meaning all of the design and assembly is included and you won't have an additional labor mark up for adding a wax seal or ribbon.

All of my clients receive their suites completely assembled, addressed, sealed - ready to apply postage and mail! 

(And, I even provide tips for that, too!)
The Investment

Pricing for custom designed wedding invitations begins around $1,000 for 100 digitally printed suites (invitation, details and reply cards with outer and reply envelopes and liner, digital address printing), with prices increasing for printing methods like foil or letterpress, additonal details like ribbon and calligraphy. 
Collapsible content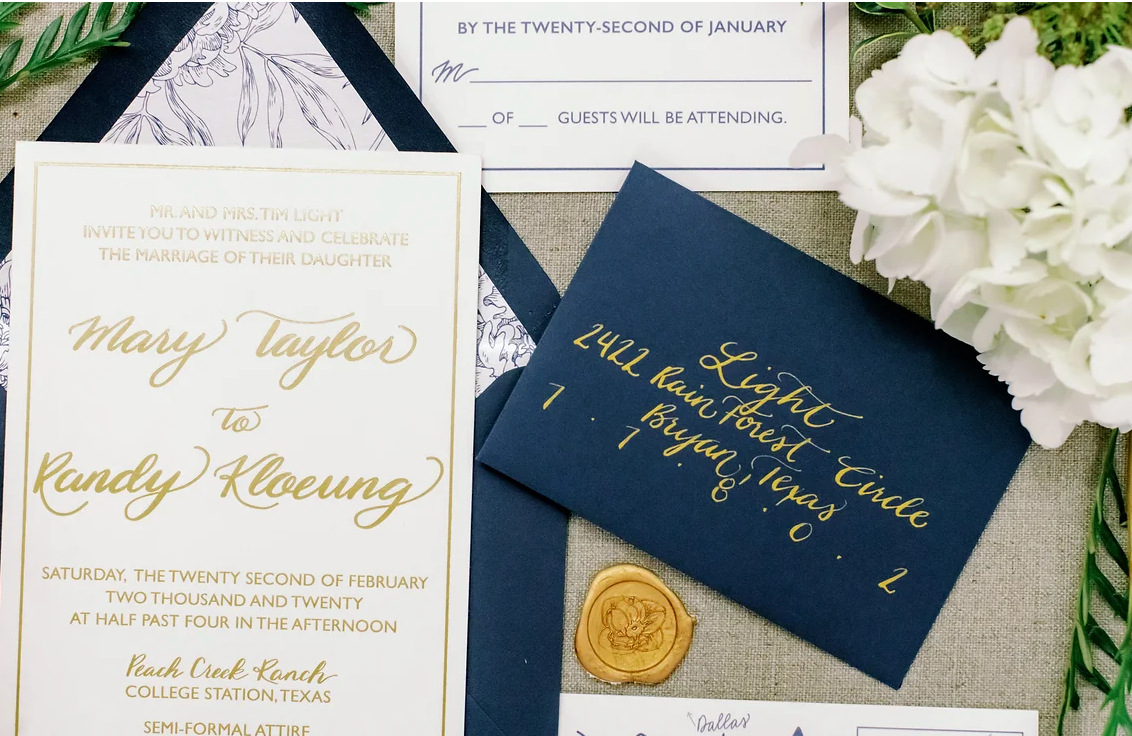 Envelope Calligraphy

There aren't many things that'll make you stop in your tracks when you check the mail quite like an envelope addressed in calligraphy.  Each envelope is addressed by hand with a nib and ink (just like the photo above!). After the meticulous addressing, each envelope is carefully proof-read. The result? Quite literally, a work of art for each of your guests.
The Investment

Calligraphy Envelope Addressing:

Outer address: $2.50 each
Inner envelope: $1.50 each
Return address: with name(s) – $1.50 each, without name(s) – $1.00 each

​Place Cards or Escort Cards:

Paper Cards: $1.50
Non-traditional (stone, agate, glass, leaf, etc): Varies. Contact us for pricing.​

Monoline Addressing:

Written with a pen in script or print. Either a gel or felt tip pen is used, providing the hand-written look but without the raised or metallic ink effects of calligraphy. A great option for Save the Dates!

Outer address: $1.00 each
Inner envelope: $1.00 each
Return address: with name(s) – $.75 each, without name(s) – $.50 each

Additional Options:

For Information for Signs, Seating Charts, Table Numbers and more send an inquiry to hello@birdiemaedesigns.com​

Please note that all prices above do not include paper or materials.